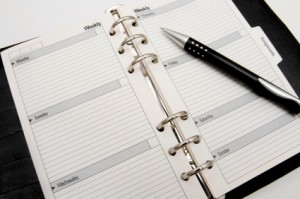 One thing that seems to always come up in discussions with clients about blogging is TIME. Let's face it, if you are a Sole Proprietor (or Soloprenuer), your time is at a premium. I know…I'm in that boat with you! So, I thought it would be a great time to sit down and discuss the WordPress Publish Box with you, and show you how you can use it for scheduling posts and more.
This wonderful little box, provides the blogger with lots of time-saving tools! Let's go over the Publish Box from the top:
Save Draft button: This allows you to write a post as you have time for it. As a matter of fact, I've used this button several times during the writing of THIS post! When you save a draft, your post is not visible on your site. It is also not visible without being logged in.
Preview button: This allows you to preview how your post will look on the site with the current changes. Remember, if your post is still only a draft, persons who are not a logged in user on your site will not be able to see the preview.
Status: This is automatically set to Draft when you "Save Draft", and it is automatically set to "Published" once you publish your post. You can, however change it at any time. If you accidentally publish your post, you can easily change it back to a draft. If you are an editor, and need final approval of a post before it's published you can change the status from "Draft" to "Pending Review". "Pending Review" means that the post gets flagged in the Posts Admin area of the dashboard as needing to be reviewed. Click the OK button when you're done.
Visibility: This allows you to determine who can see the PUBLISHED post. Public = everyone who visits the site can see the post. Password Protected = allows you to require a visitor to enter a password to see the post. Private = means that the post is only visible to logged in users with editor or admin permissions. Click the OK button when you're done.
Publish: Gives you scheduling options. If nothing is entered here, the post will publish immediately. You can use this area to schedule posts for the future (giving you the flexibility of writing several posts at once in your free time); or you can change a post's date to the past to rearrange how it displays (order) on your blog. Click the OK button when you're done.
Once you've got everything the way you want it from the options above, none of it will take effect until you hit that "Publish" (or in the case of a previously published article – "Update") button…even if you've clicked the OK button. And don't forget about your Categories and Tags!
So the next time you've got a little extra time on your hands, or you have inspiration to blog…use these wonderful WordPress functions to help you post more effectively!